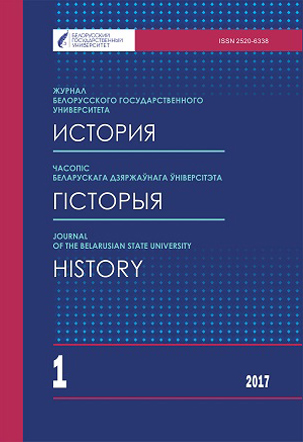 «Journal of the Belarusian State University. History» («Zhurnal Belorusskogo gosudarstvennogo universiteta. Istoriya») is founded by the Belarusian State University in 1969 (until 2017, as «Vesnіk BDU. Seryja 3, Gіstoryja. Jekanomіka. Prava», ISSN 2308-9172).
The journal is the country's leading academic journal based on theoretical and applied problems of Belarusian and world history, source study, historiography, historical research methods, art history, archaeology, special historical disciplines, archival science and museology.
The journal covers all areas of the study of the historical process from antiquity to the present, encourages interdisciplinary and comparative approaches. The priority of the journal is publication of original, previously unpublished materials based on introduction of new sources into the scientific use and written in the light of the contemporary national and foreign historiography. «Journal of the Belarusian State University. History» pays great attention to the professional discussion of new scientific publications (monographic research, collections of scientific articles and academic publications of sources), which is carried out both in the format of re-views and analytical reviews, as well as popularization of scientific events held in the Republic of Belarus and abroad.
Editor-in-chief – Aliaksandr G. Kakhanouski, doctor of science (history), full professor; dean of the faculty of history, Belarusian State University, Minsk, Belarus.
The journal conducts a double-blind peer-review of received manuscripts.
Periodicity – 4 issues per year (January, April, July, October).
The journal is directed towards wide range of specialists in history and related sciences including professors, lecturers, postgraduate students, master's degree students and students.
Publication in the journal is free of charge for all authors.
Languages – Russian, Belarusian and English.
The journal is included in the list of the leading periodicals recommended by the Higher Attestation Commission of the Republic of Belarus for publishing doctoral research results in historical sciences, as well as in the field of museology, preservation, culrural-historic objects restoration, documentation, archival science. The journal is included in Russian citation databases such as Elibrary.ru.
The journal is included in the Subscription Catalogue of the Republic of Belarus: the subscription indices are 00339 (for individuals) and 003392 (for institutions).